I couldn't tell you that I was a photographer straight from birth like I can say I was a feminist since I was born, but I can tell you that my interest in photography goes far back. Ever since I was little, I've had the sense that I need to make a big difference in the world: call me an
indigo child
or just a Leo, or perhaps attribute it simply to my compassion for people and drive to make changes to society. I noticed today that some of my newer photography has a gritty-realistic feel to it and so I saught out the source to my newly developing personal style. I remember a history class back in 8th grade when I was 13 years old when we learned about
muckrakers
from the Industrial Revolution. Though we learned about all sorts of artists, the one that stuck out to me the most was Jacob Riis.
Jacob Riis: dirty muckraker or dashing gentleman?
Riis, one of thirteen children, emigrated to New York City from Demark in 1870. At first he worked as a carpenter but eventually found his way into journalism. It was during his stint as a police reporter for the New York Tribune that Riis was exposed to the deplorable living conditions of the poor in the City. Finding these conditions totally unacceptable and sympathizing with the plight of these destitute immigrants as he had recently been one himself, Riis decided then and there that he was going to try and help change them. He struggled while looking for a way to better express what he saw; alas, he was incompetent at sketching and the cameras of his time were for limited use (with poor focal lengths and without proper lighting for darkened interiors). It wasn't until a few years later that a proper medium was developed that suited Riis' needs and so he did not waste any time getting to work. He worked for years compiling his own photographic evidence with the work of others like him and speaking out in public against the treatment of the working class poor. Perhaps his most famous contribution to social reform was his book, which consisted of the work he'd compiled, called How the Other Half Lives. The intent of Riis' publication was to get the attention of middle- and upper-class Americans that were ignorant to the lives of those less fortunate than they. It worked--President Theodore Roosevelt even stepped in to help his cause.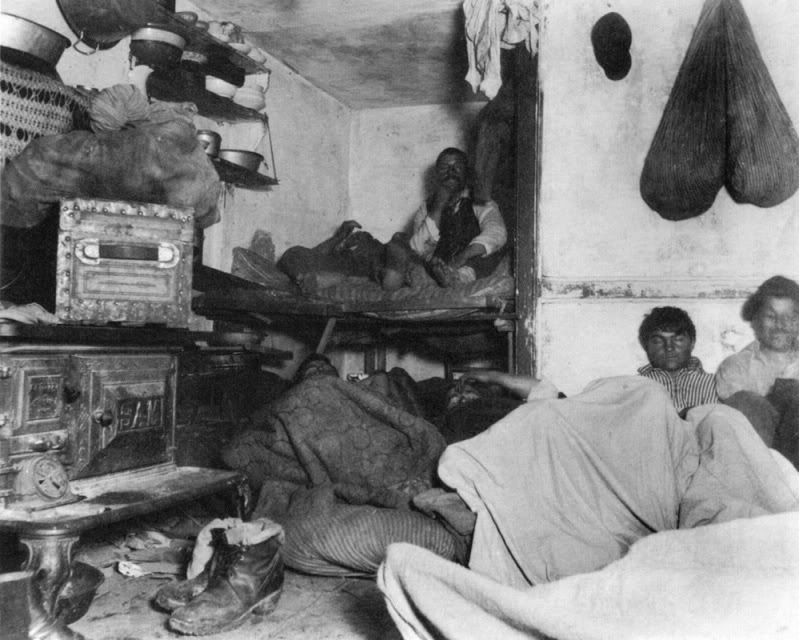 A famous photograph: an entire family crammed into a small living space. Often, the workers Riis photographed were people who had newly immigrated to the United States from Europe.

The dilapidated living conditions of the workers Riis photographed. They don't look unlike the "projects" of major cities today.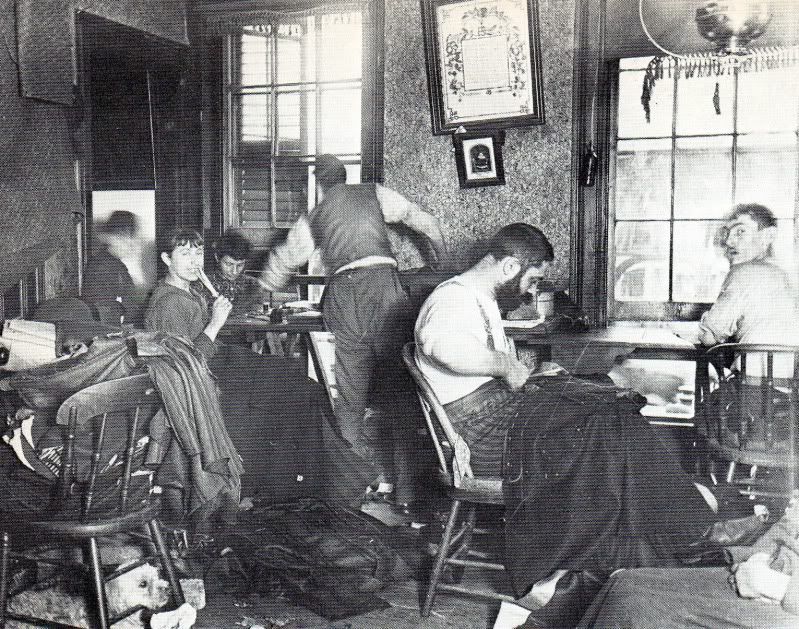 Another family in a tight living space, this time hard at work.

Riis seemed to favor children, who are often seen sleeping on the streets in his photographs. If this does not outrage a person enough to change it, then I don't know what can.
Social documentary photography combines a few things that I love: sociology, activism, and photography, and Riis was one of the American pioneers. When I look at the state of America today, I see echoes of Riis photographs all around: the gap between upper- and working-classes is widening, immigrants (this time from Latin America) are being treated inhumanely, and as it always goes, the wealthy seem to be completely oblivious. Riis and others like him inspire me to keep going as an activist and a photographer and to continue to expose the plight of marginalized people. Who knows--perhaps the President we have now would step in to help the loudest voice (I wouldn't be surprised).