I'm happy to announce that my sister officially purchased her home yesterday! It's about two months overdue (thanks to the wonderful bank!), but better late than never, and we're excited to start working on it. Indeed it needs a lot of work: a new roof, new carpets, a new front door, and we've got little carpenter ant friends in the basement who will be getting evicted...
I walked through the house for the first time yesterday and I am so excited at how big my bedroom is! My room at my parents' house is the same one I've been living in since I was an infant and it's pretty tiny. I'm thrilled that I will finally be able to have a "big girl" bed instead of the old little twin bed I've been sleeping in forever. But now that it's all set and ready to go, I've been changing my mind over and over again about what I want to do with my bedroom. I'll share some ideas with you and perhaps you can help me out!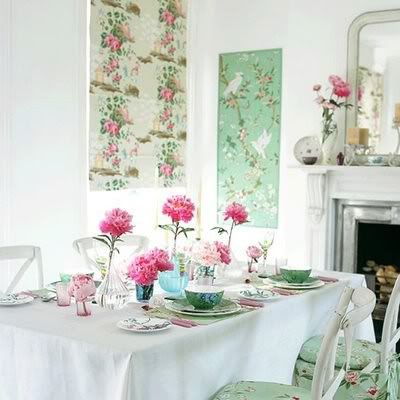 I'm loving the pop of this pink against the dusty pale aqua blue. I'm a little hesitant about making it too girly, but I'm not sharing the space with a guy, so I suppose I'm allowed!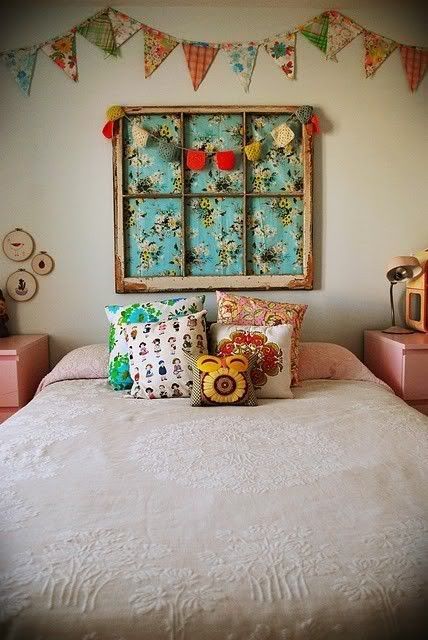 I also really like the idea of having a plain white embroidered quilt so that I can cover the bed in throw pillows of lots of different colors, shapes, and patterns. The wallpaper in the old window frame is a nice touch too!
This antique desk, which is from a local shoppe in my area, is exactly what I'm looking for. I want all of my furniture to be mis-matched and antiqued!
I love the slew of "Keep Calm and Carry On" parodies that have been made--I've even considered getting that infamous crown tattoed on me to commemorate my time in England! This poster by Matt Jones will be going in my crafting area.
A photo collage of my family, friends, and travels in the shape of a heart is definitely going above my computer desk!
Last but not least, my room has to have the Union Jack somewhere in it, and I'm in love with these little patchwork throw pillows!
This blog is going to be turning into the "Kayla Redecorates 2k11 Blog!" I plan on updating you with before-and-after photos as well as any DIY projects I come across and complete! I'm so excited!